The traditional workplace has been changing continuously since the 80s and it kept evolving at a faster and faster pace. How is hot desking related to that?
Increasing availability of internet connection, mobile internet connections, smaller laptops, better online security all contributed to creating a shift in office layouts and strategy. A fixed office, or even a dedicated desk in a corporate office, went from being a necessity, to becoming a possibility.
The ever increasing need for flexibility of companies, an increase in contracting and temporary worker employment, as well as the ever developing globalization all mean that a lot of employees don't need a fixed desk anymore.
This is how the concept of hot-desking came into existence.
TABLE OF CONTENTS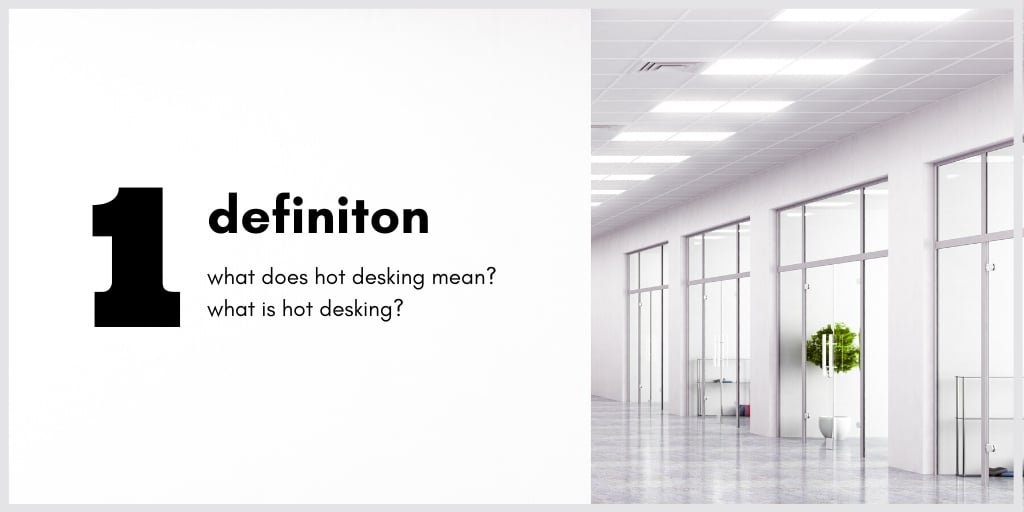 WHAT DOES HOT-DESKING MEAN?
Hot desking is the concept where office workers do not have a specific, assigned, seat but instead, they can "check-in" to an open seat and / or an open desk.
Basically this means a seating available on a first-come, first-served basis for the organisation's members, employees, flexible staff, or contractors.
The idea of hot desking can be translated into: reducing the number of workstations in an office suite while increasing the spaces to encourage a more diverse range of working styles.
As can be expected from new ideas, hot-desking has gained the support of some managers, who like and encourage the idea, while others are clearly against it.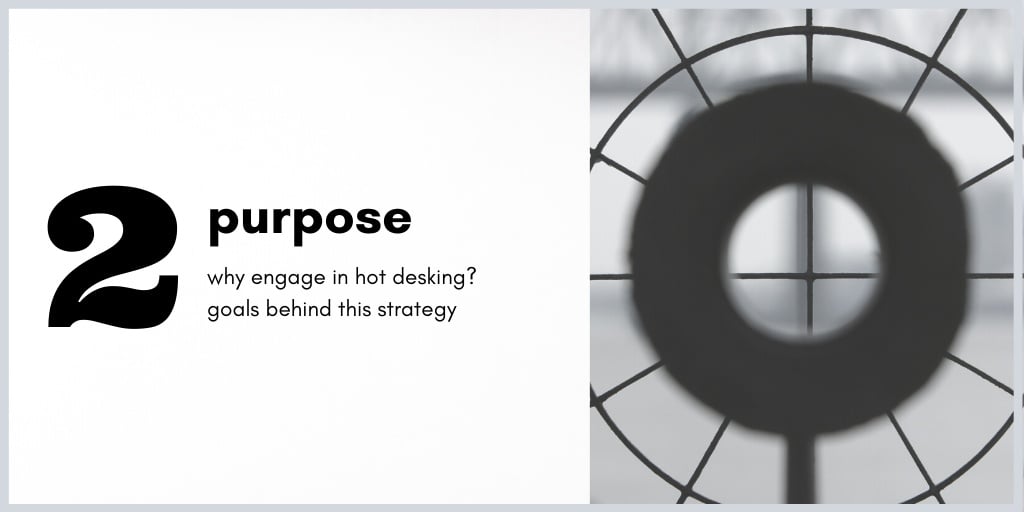 WHAT IS THE PURPOSE OF HOT-DESKING?
Large companies have started adopting hot desking and implementing hot desking strategies as a part of their office layout design.
Startups and smaller companies too are making good use of this office planning method. It comes in useful when a second office is open, and new staff hired, which usually leads to the creation of hot-desking areas on the floor.
The need for flexibility, speed in setting up new office spaces, reducing the costs of launching an office space, such as furnishing and renovating, have been part of the renewed interest and relevance of coworking spaces.
Shared office spaces, that are better known as coworking spaces, not only promote the idea-sharing within your business, but across multiple businesses, with the added benefits of boosting your network and visibility.
Additionally, coworking memberships are more flexible than office space rentals, which makes them a compelling addition to a company's office space strategy.
The membership in a coworking space can also be combined with other services that complement the hot desking approach well, such as access to additional workstations at the snap of a finger, access to meeting rooms, or an international coworking membership.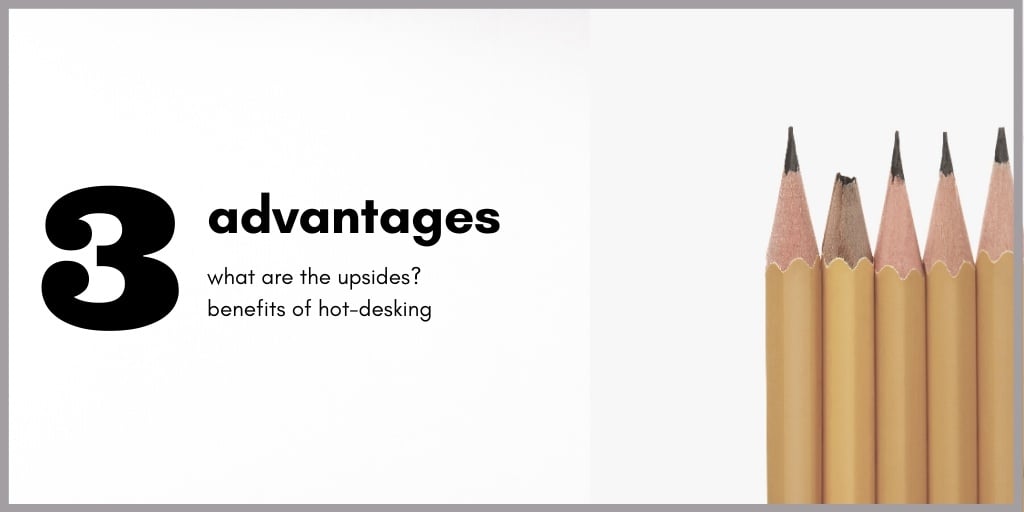 ADVANTAGES OF HOT DESKING
Cost reduction, of course
Using hot desking practices can potentially save tens of millions in unused office space for large companies.
The amount saved by smaller businesses will not be counted in millions but the impact can be way greater in terms of percentages of cost savings, making its meaning even more significant.
Office space is the second-biggest expense group for organisations. Astonishingly, an estimated 40% of office space is vacant at any point in time, according to research.
This means that if you want to increase your profits, through the reduction of unnecessary expenses in real estate, hot desking is certainly a way to go to eliminate unused space.
Organizations that have employees traveling a lot of time or companies that have remote workers will make a great use of hot-desking as a cost saving technique.
Productivity and efficiency
As shown by several researches, working from hot desks, shared office spaces, coworking spaces, makes you more likely to engage with colleagues and peers, and positively impacts your motivation and efficiency.
This kind of setup stimulates productivity, efficiency, health, and mental health, breaking the monotony of being rooted to the same spot for a long period of time.
More space
Creating a hot-desking area leads to removing some of the fixed desks, which means a decluttered office space for your organisation. How will you use this space?
You can use the newly found space to create cool break-out areas or fun rooms (table tennis, foosball – get creative!) for your employees. These new spots will mean happier, more relaxed and more productive employees.
Use the extra space wisely and push for areas where people can collaborate and discuss business in a more relaxed environment. This will foster creativity in your organization.
Communication effect
Not everyone needs a desk every day. People moving around in the office means more interaction amongst colleagues (and as a bonus: decluttered desks).
Moving around the office, meeting up with peers, interacting not only with a set group of people, increases engagement amongst colleagues, and helps foster new connections and generate new ideas.
People will not only talk about business of course, but they will inevitably discuss the current situation in the company. This can lead to some unexpected solutions and improvements.
The mobility that hot-desking gives to those employees could help them build better relationships with their colleagues and be more engaged with different departments.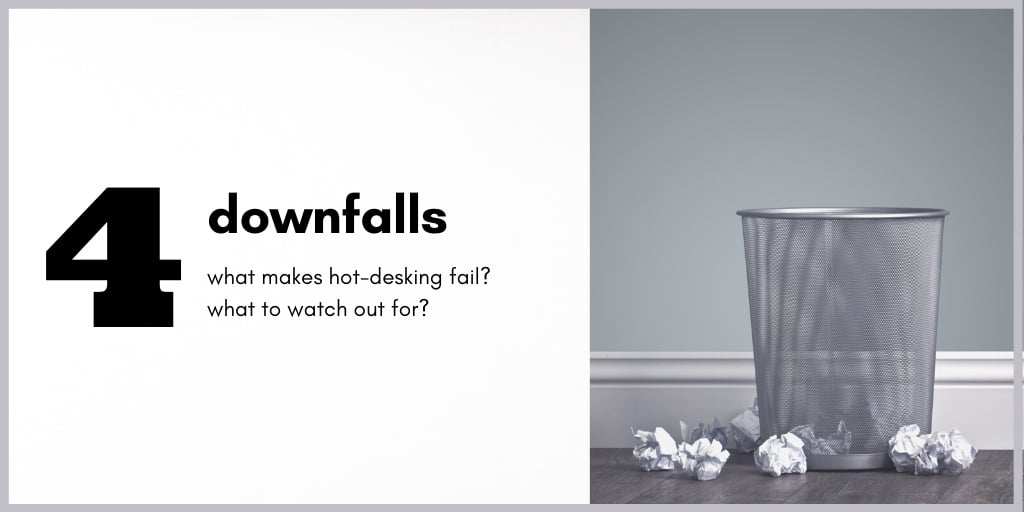 HOT DESKING CAN FAIL. WHY?
Distrust, distractions, uncooperative behaviour, negative relationships, are some of the problems that colleagues can come across in a shared office environment, as shown by a study made on 1000 Australian employees.
The perception of support from managers to employees can also be negatively impacted, however this also widely varies and depends on the organisations' culture. These issues can in turn provoke a ripple effect and decrease the productivity of employees. These negative effects however take place in a minority of cases, as coworking and shared office space typically have a positive effect on the community.
Other negative effects revealed by a study from 2011 show employee marginalisation, indifference, and inattention to co-workers as possible negative outcomes of the hot desking environment. The same study also found an increase in loss of organisational identity and commitment.
Keeping these possibilities in mind, it is crucial to consider the culture being fostered in the organisation, and the habits workers have been accustomed to, before implementing a hot-desking approach.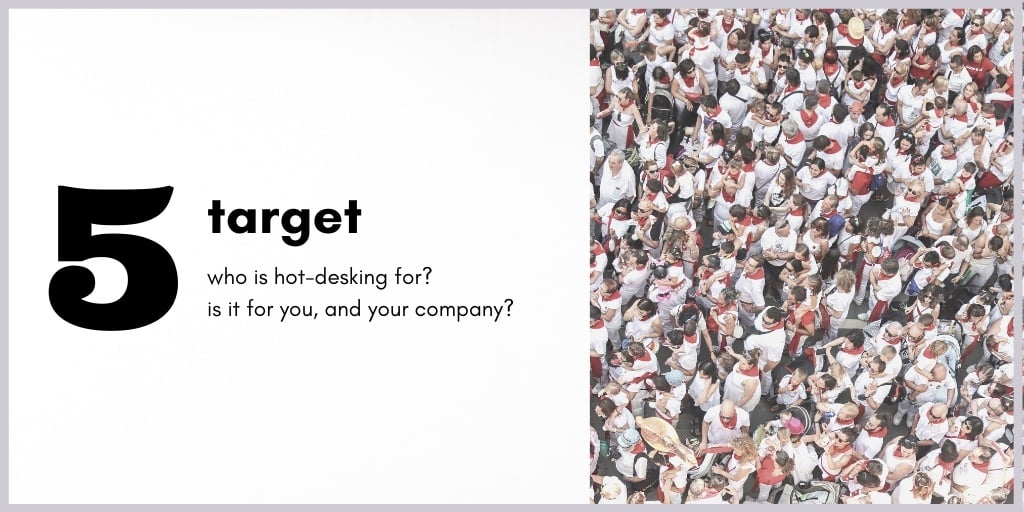 WHO DOES IT WORK FOR?
Hot-desking works best for employees who are more productive whilst being mobile and independent and who have a well defined work process.
Considering which employees, or group of employees will best handle this new situation in the workstations is crucial. The benefits of giving proper consideration to this factor are vast, as we've seen above.
Discipline is also an important factor for hot-desk workers. For those who can work well without supervision or the need to consult team members often (that is, more senior staff members), the ability to select a workstation or area based on individual needs and preferences is seen as a benefit.
For teams or departments that require quiet spaces and want to avoid any unwanted interruptions, hot desking is not the solution. For those that can work autonomously, and want to feel more flexible in their office however, it is a welcome approach!

FINAL THOUGHTS
After reading all this, you probably got a sense of whether you want to implement hot desking for your own organization.
The key to a good implementation (as is with most things) is estimating how this seating strategy would work for you, and if you see an opportunity in it, planning ahead will be the next step. These will help you use the space you have at your disposal intelligently, making the most of your space, and reducing your costs.
When planning, it is key to take into consideration your working strategy, budgeting and the logistics involved.
Here are some questions to consider when planning your hot desking strategy:
How will you integrate hot-desking in your current office environment?
Do you have a work from home policy that could go hand in hand with the creation of a hotdesking area?
How will hot-desking integrate into your overall work strategy and office culture?
If the implementation needs to be validated by others in the company: how will you pitch it? What are the key benefits you want to focus on?
How will you organise the workstations?
Will each workstation have a computer or screen attached to it, or only laptop docking stations? Will you need other furniture to be added?
If you use landline phones, how will they be attributed to the relevant person in the hot desking area?
As mentioned above, don't forget to think about the effects of hot desking, what this new way of organising your workstations will change in the office environment.
Consider phone communication. Maybe you'll need to adjust the current systems to manage call forwarding properly. This could be done through Skype's online phone numbers, or Google Voice phone numbers for example (or any other set of companies providing virtual numbers and call management).
If you have a complex call allocation system, you can also consider implementing or renewing your PBX phone service to better fit the new office layout.
Consider hot-desk related equipment and supplies management. As you'll be saving on your operational costs, you can make additional improvements to your work environment.
Adjustable sit-stand desks can make a big difference, not only in the hot desk users' comfort, but allow you to host standing meetings, which make them more efficient.
External mice and keyboards, preferably anti bacterial
Docking stations so employees can immediately plugin and out to be more productive
Adjustable and ergonomic chairs ideal for hot-desking
How does hot-desking work in your company? Do you see it having a positive or a negative impact on your organisation? Have you used a hot-desk and if so what was your experience?
Drop us a message on Facebook, or contact us through the contact page, and we'll add your thoughts to the post!
About the author: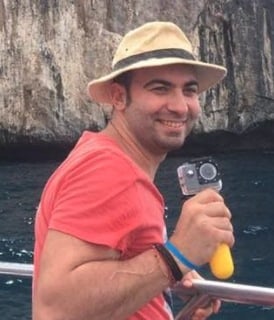 Andrew Williams is the Founder of Remote Tribelife, a magazine for digital nomads and remote working.
Andrew has an extensive background in SEO and content marketing. His experience with content marketing goes back to his early age in University when he founded a blog about startups and funding.
He does his best writing in the coffee shops in Bali or in the condos of busy cities like Bangkok and Singapore. He is currently based in Singapore. You can connect with Andrew on his Linkedin profile and / or follow Remote Tribelife on Instagram.